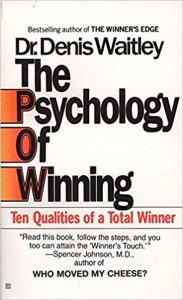 Psychology of Winning by Dr. Denis Waitley
"Read this book, follow the steps, and you too can attain the 'Winner's Touch.'"—Spencer Johnson, M.D., author of Who Moved My Cheese?
Dr. Denis Waitley, a national authority on high-level performance and personal development, reveals his formula for developing the ten qualities of a total winner:
• Positive self-awareness • Positive self-esteem • Positive self-control • Positive self-motivation • Positive self-expectancy • Positive self-image • Positive self-direction • Positive self-discipline • Positive self-dimension • Positive self-projection.
"A heavyweight among motivational writers."—Charles Paul Conn, author of An Uncommon Freedom.
About the Author
Best-selling author and speaker, Denis Waitley has painted word pictures of optimism, core values, motivation and resiliency that have become indelible and legendary in their positive impact on society. He has studied and counseled leaders in every field, including Apollo astronauts, heads of state, Fortune 500 top executives, Olympic gold medalists and students of all ages and cultures.
What To Say When You Talk To Your Self
Discover Dr. Shad Helmstetter's wildly popular self-help book What to Say When You Talk to Your Self, now updated with new information for the twenty-first century, and learn how to reverse the effects of negative self-talk and embrace a more positive, optimistic outlook on life!
We talk to ourselves all of the time, usually without realizing it. And most of what we tell ourselves is negative, counterproductive, and damaging, preventing us from enjoying a fulfilled and successful life. But with Shad Helmsetter's Five Levels of Self-Talk (Negative Acceptance, Recognition and Need to Change, Decision to Change, The Better You, and Universal Affirmation), you can take back control of your life via this accessible yet profound technique.
About the Author
Shad Helmstetter, PhD is the international best-selling author of more than twenty books in the field of personal growth, including the classic What to Say When You Talk to Your Self. Dr. Helmstetter's books have been published in many languages in over sixty-five countries.
Buy this book on Amazon:
Go to Amazon
Category: Toolbox